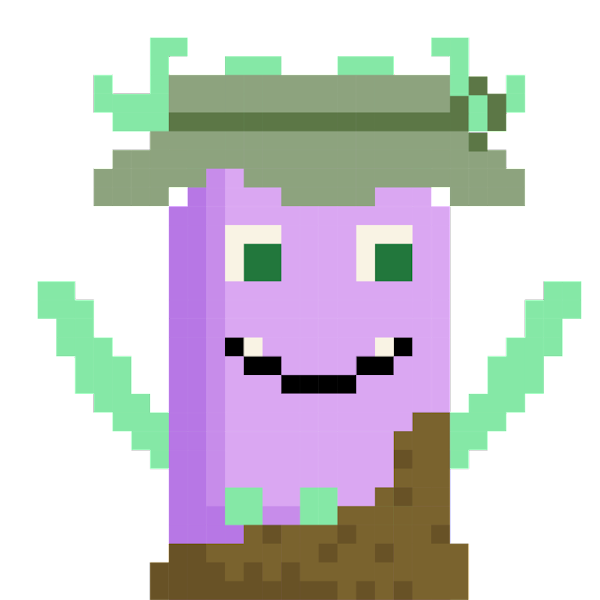 English official account of Matters Lab, with the mission to create a freer and fairer creator ecosystem. Building @thespace
 For Mandarin community: @hi176 Announcements related to Web3: @web3

Matters Lab May 2022 Update | $SPACE Token, 1000+ Players and Creator grants
Web3 is speeding toward the vision of a better Internet at an ever-changing pace. An expedition is ahead of us !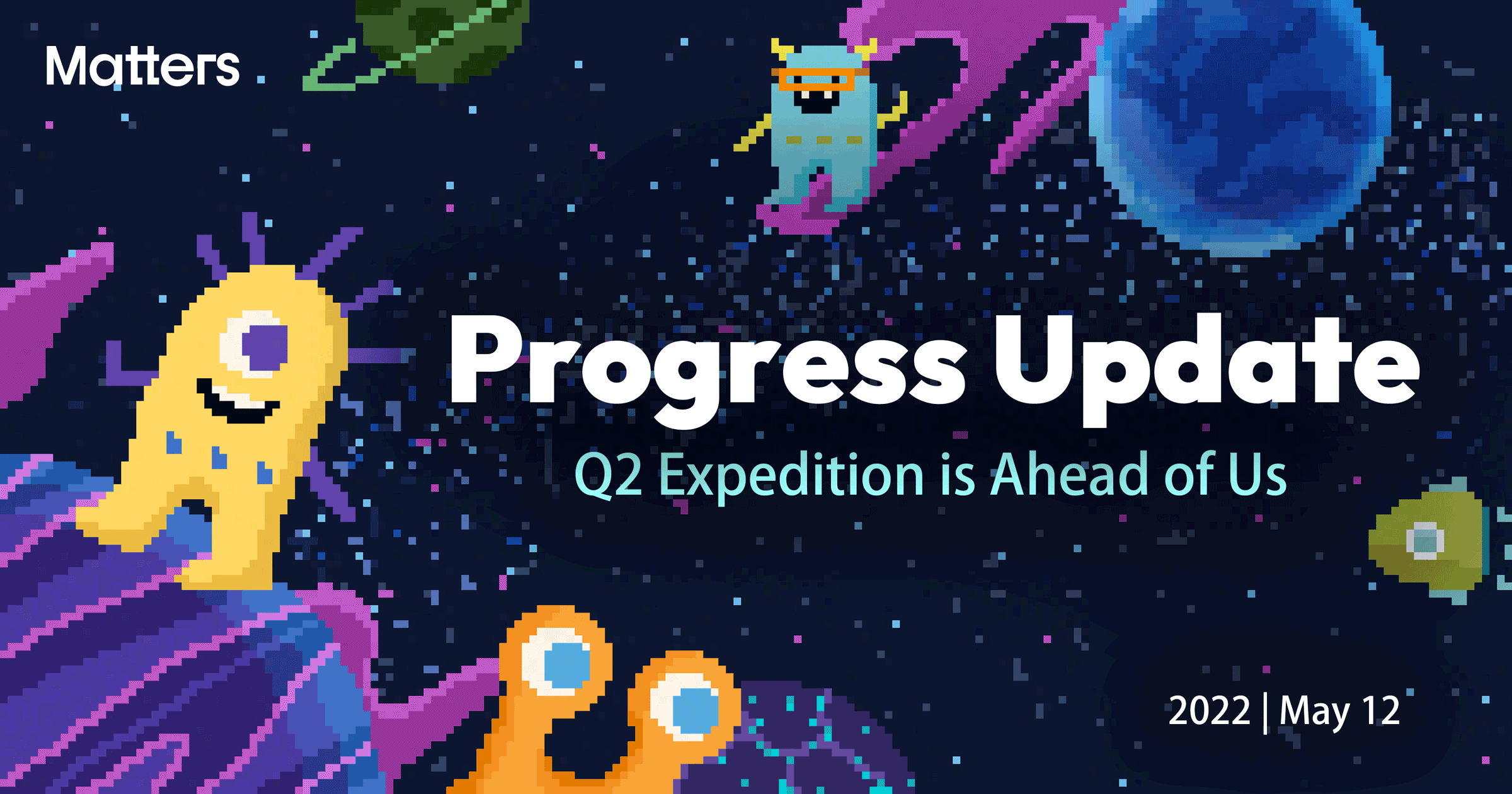 Q2 of 2022 is upon us with a good deal of exciting progress: multiple creator funds; Season 2 of the Non-fiction Writing Frontline Award; The Space and $SPACE token white paper release after three rounds of Beta, with the last one coming on May 12th-14th.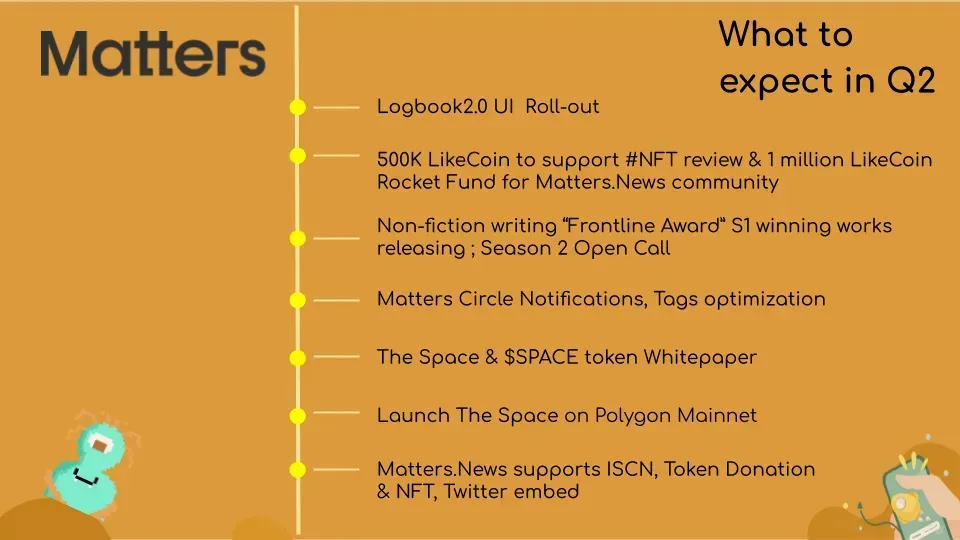 PRODUCT UPDATES
。After two rounds of Beta with 1000+ players, 10+ DAOs, 300+ professionals, and media observers, the last round of The Space BETA is coming on May 12th-14th. In the final round, we will launch The Space as a blockchain museum to conserve Web3 memories of our era.
。On Matters.News, tags and URL sharing have been optimized to enhance search results.
。167 logbooks were claimed on Opensea after its launch in March. The library is now filled with vivid co-creation content. We updated Logbook 2.0 with a more intuitive Users' Interface, and added "Sorter" to index the content more conveniently.
COMMUNITY GROWTH
。Matters.News Month-On-Month user growth shot up ↑67%. Interestingly enough, we also learned that a vigorous Russian-speaking community is writing on Matters.News.
。Various grants for creators are offered on Matters.News, with ongoing ones being Millions Matters Community Fund and Rocket Fund. This month, a new fund with 500k LikeCoin is announced for articles written under the tag #NFT review to encourage NFT writers.
。With 4k+ users in Matters' Discord, we host AMAs and team class on a weekly basis. In April, we've held 12 AMAs and acquired 6 Whitelist opportunities, collaborating with Mintverse, CodeGreen, TeaHouse HighTable, Just For Fun @BAYC with InvestManDAO, etc.
。Matters Lab is dedicated to empowering developers. We are an open-source community that welcomes developers to join our dev-team meeting on Discord "Developers' Lobby" every Wednesday, 11 AM-12 PM (UTC+8).
。The Space has its own Discord channel. They are recruiting early contributors and moderators to join the early stage design of SpaceDAO.
FEATURES & PUBLICATIONS
。Jieping Zhang, the founder of Matters was interviewed in Forkast News '**Voice of April' NFTs highlight Shanghai's struggles amid harsh lockdown.**
。Jieping was also featured in the largestbook review media Openbook to share how using Web3 Against Algorithm could create an Agora with truthful public spirit.
。On the podcast hosted by RSS3 Jack Xiong, Guo, co-founder of Matters & Atlas, RSS3 co-founder discussed the value of Web3. Why do products like Matters & RSS3 exist? How do they perceive the Gold Rush in the Web3 tidal wave of innovations?
。We published a new article: Radical Markets on Blockchain: How a Draw-to-Earn Game Imagines the Redistribution of Wealth. The article explains the history of radical markets, and why The Space could be the first large-scale blockchain experiment to solve the dilemma between public and private ownership.
。Odaily selected 10 representative SocialFi platforms aiming for **a freer and more decentralized vision,** and Matters Lab is one of them.
。Articles published by Matters Lab are now on Coinmonks, a Non-profit Crypto educational publication & Geek Culture, a popular tech publication on Medium.
。The Gold Motor newsletters (金馬達基金) curated №42–44, particularly focusing on Logbook curation and Voice of April in Shanghai.
---
WHAT'S NEXT
The Space will soon launch on Polygon Mainnet. Are you an artist or creator? Check out The Space Genesis Project. Let your artwork become an everlasting and ever-evolving piece of history on the blockchain. If your idea is adopted, we will award you 1000USDT or $SPACE equivalent.
Learn more about Matters Lab:
Like my work??
Don't forget to support or like, so I know you are with me..