Why is Crypto market down? When will crypto recover
When will crypto recover is the most common question asked these days. As Crypto market is down and out and seems to be out of energy to continue the steady growth we witnessed last year. The crypto crash is real as most cryptos are half the price they were a 2-months ago.
The Chinese Lunar year or otherwise known as the year of the Tiger has welcomed the market with quiet a havoc. We wonder if the Chinese new year could be one of the many reasons for crypto crash again. Call it a pure coincidence or not, every year the Chinese new year brings the crypto market down. So much so that it is almost established as a multi-year Bitcoin crash pattern. Some crypto traders happen to call it the "Chinese New Year Dump". But does it hold any truth?
Crypto price history on Chinese New Year
In 2017, Bitcoin price dropped by 30% from $1,130 down to $784 just before the festival began.
In 2018, Bitcoin's price dumped from more than $18,000 on January 6 down to $6,800 by February 6.
In 2019, bitcoin's prices fell from $3,491 just before the Chinese New Year to $3,397 during the holiday.
In 2020, prices dropped again before the Chinese New Year, breaking the initial resistance of $8,300. It then plummeted below $8,300 the next day. During 2020 it was relatively stable in January and February but went down briefly in $5300 range in mid March.
In 2021, with a steady increase from $32,000 to $39,000 during the first week in February and a massive 2-day rally to $48,000 the days before the festival. 2021, is particularly the year when we witnessed the odd behavior of Bitcoin market. Although, it went quiet a bit in January, which was probably the western investors expecting the usual.
Bitcoin crash in 2022
Evidence suggest that during these new year celebrations the Chinese dominant exchanges Binance and Huobi has shown lower trading volumes. But is difficult to correlate the latest crash the Chinese new year in 2022 as Bitcoin and altcoins were on the down-trends since Nov, 2021. This correlation is further reduced by the fact that China imposed a ban on Cryptocurrency mining before the Holiday season began.
In 2022, the Lunar year was celebrated on the 1st of February. The Bitcoin price recorded today since from it's all time high is down by almost 53.55%.
Crypto market down today
Crypto market was all red today and found to have been under pressure. The top ten crypto Bitcoin, Ethereum, Binance coin, Solana, Cardano and all others were found to have briefly went down by 5% each. While one my outperform the other but clearly we are in bearish market. Some analysts linked the down-trends to Facebook announcement that's it's virtual or augmented division reported a loss of USD 10 Billion in 2021.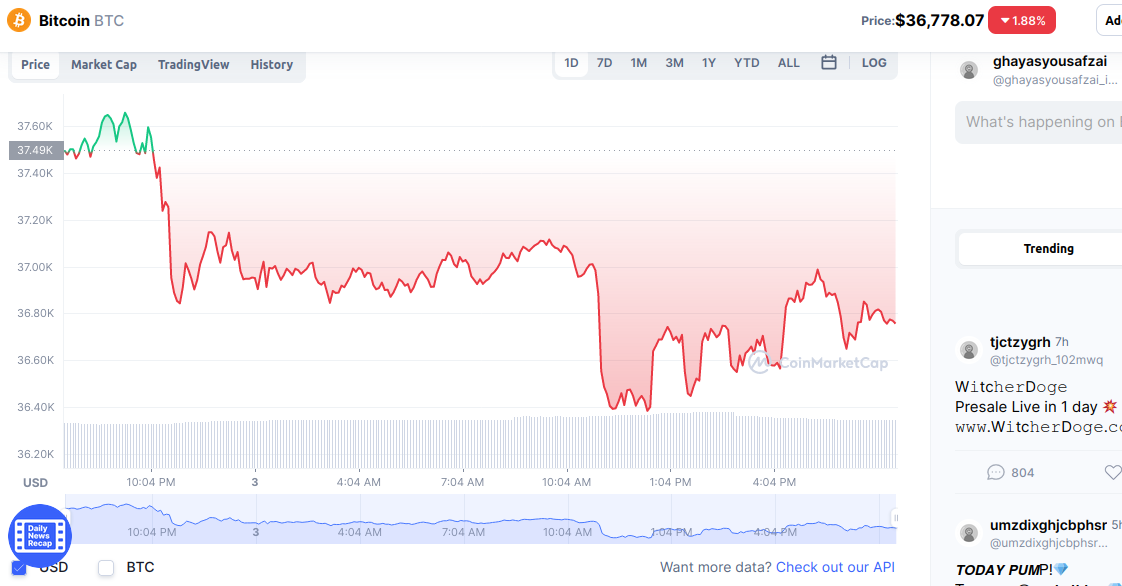 Other's of the opinion that it might be the 30% tax imposition by Indian Government on cryptocurrency gains which are subject to charge as of Feb 01. The news did rounds on social media like Twitter for quite a while.
Will Crypto recover?
For sure, cryptocurrencies have so far exhibited very good resilience. This is not the first nor the last that cryptocurrencies have crashed. As Coinbase stock falls, due to other macroeconomic indicators in US, Cryptocurrencies are likely to suffer.
Given that there's more room for sell-off, cryptocurrencies can very well recover from the turbulence and reach new highs.
Credits: QuickSwap
Similar Blogs: Crypto crash, $130 Billion off-market as BTC & ETH loses ground
Original link: Your go to Crypto place
Like my work?
Don't forget to support or like, so I know you are with me..