"极端"情形下能使用刑讯逼供吗?(一个英语课程作业)
Debunk In Defense Of Torture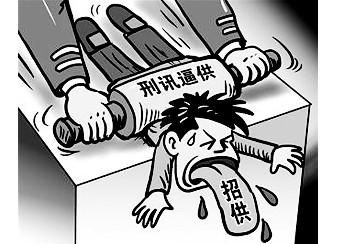 椰子按:
这是我的朋友Only英语论说文写作课的课程作业(上一篇是《大学的"女性化"程度够了吗?》)。她按要求写了一篇论战文,对手是Sam Harris的In Defense Of Torture。原文中,Harris援引定时炸弹思想实验(大致内容:一枚大规模杀伤性的定时炸弹隐藏在你的居住地并即将爆炸,是否应该使用刑讯逼供已被羁押的知情者)挑战刑讯逼供的禁忌;再对比刑讯逼供和"伤及无辜"(collateral damage),指出,既然后者伤亡巨大、无可避免且为人接受(例如,战争中炸伤平民),那么,为什么不接受杀伤力更小且有可能拯救更多人的前者?Harris还写道,就算刑讯逼供造成冤案,那也比不小心炸死受害者全家来的伤害小。
嗯,看看Only是怎么反驳的吧。
Debunk In Defense Of Torture
Only 20307090119
In his In Defense of Torture, Sam Harris, the famous philosopher and podcast host (of Making Sense), justifies the use of torture in rare circumstances. Besides citing the cliched ticking bomb scenario, Harris argues that there is no ethical difference between collateral damage (e.g.killing innocent noncombatants) and torture, and if the former is guaranteed, why not the latter? As persuasive as he sounds, his argument is still unrealistic and unthoughtful.
Let me dismiss his ticking bomb scenario first. At the beginning of the essay, Harris asks readers to imagine millions of little girls asphyxiated in a warehouse just five minutes away, while the man in custody holds the keys to their release, and he will hand over the keys only if he is tortured -- should he be tortured? Neither torture nor condemning millions to avoidable death is ethical. It is understandable (but still wrong) to torture the men in this case to save lives. However, this extreme case cannot justify torture because of its unrealistic context and hidden assumptions.
"Millions of little girls" and a shameless man create a context of fear and anger. Harris successfully manipulates emotional reactions of readers -- sympathy (or even admiration) for the torturer, and hatred towards the torture victim. The purpose of his scenario is to create doubt about the absolute prohibition of torture, rather than investigate the possibility of applying torture in real life. Meanwhile, though the scenario seems limited, the hidden assumptions in it will inevitably widen the exception to the ban of torture: How imminent must the harm be? How certain must the government be that the man is a perpetrator and has information to prevent harm? How certain that torture works? The slippery slope does happen in practice. According to Human Rights Watch, for years Israel justified its use of torture (or "moderate physical force") by citing the ticking bomb scenario, and they ended up torturing thousands of Palestinian security detainees on the theory that they might know something about some unspecified, future terrorist act. Besides, according to neuroscience professor Shane O'Mara, not only does torture not work, it may further impair a person's ability to tell the truth.
Then comes Harris's unthoughtful comparison of collateral damage and torture. As Harris puts it, collateral damage like killing innocent noncombatants in modern warfare is unavoidable, considerable but permitted. Torture, in his opinion, has little risk of death and may give us something profitable. Thus, "if we are willing to act in a way that guarantees death of some considerable number of innocent children, why spare the rod with known terrorists?" As for the possible misapplication of torture, Harris reckons that accidentally torturing an innocent man is better than accidentally blowing him and his children to bits.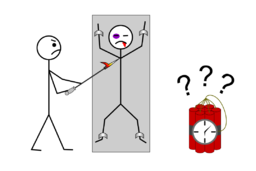 Admittedly, his comparison is strongly persuasive, but he ignores the critical difference between collateral damage and torture -- the intent. Considerable as it seems, collateral damage is inadvertent, miserable, and should be minimized. Nevertheless, torture is deliberate. It subjects someone to pain and terror through state power. The difference between collateral damage and torture is the difference between unintentional injury and intentional injury. If torture is allowed, the government is allowed to commit intentional injury. Besides, accidentally torturing an innocent man is much worse than accidentally blowing him and his children to bits, since the former is done by the state power. As the English philosopher Francis Bacon said, "One foul sentence does more hurt than many foul examples. For these do but corrupt the stream, while the other corrupt the fountain." Collateral damage is just foul examples, while the misapplication of torture are like foul sentences, which will crush the government credibility and destroy the political legitimacy.
I agree with Harris on only one point -- the critical difference between torture and collateral damage does not lie in physical distance. Because "we could easily devise methods of torture that would render a torturer as blind to the plight of his victims as a bomber pilot is at thirty thousand feet." However, "distant torture" can only make torture easier, rather than justify its intent. As Zygmunt Bauman argues in Modernity and the Holocaust, modern industrial and bureaucratic paradigms made the Holocaust imaginable and that the machinery of industrialism made it possible to carry out. "Distant torture" is a kind of modern industrial paradigm to "comfort" torturers and make them brutal. The intent behind torture is still unethical.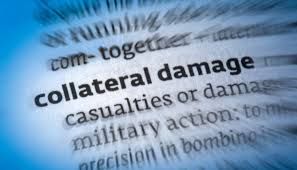 In conclusion, Harris has poorly defended the torture -- the ticking bomb scenario leads to a disastrous slippery slope, and the comparison of torture to collateral damage ignores their intentional difference. Ordinary people, as well as the government should take what Universal Declaration of Human Rights states: "No one shall be subjected to torture or to cruel, inhuman or degrading treatment or punishment." -- Abandoning this belief will make us sink to the level of terrorist groups.
Like my work?
Don't forget to support or like, so I know you are with me..