Validator sixwood voted "Yes" for proposal 29
Validator sixwood voted "Yes" for proposal 29 - "Transfer all the LikeCoin in the Migration Pool and Team Pool to the Community Pool"
Proposal 29 - Transfer all the LikeCoin in the Migration Pool and Team Pool to the Community Pool
Link: https://likecoin.bigdipper.live/proposals/29
This is a signalling proposal to transfer all LikeCoin in the Migration pool and Team pool to the Community Pool. This is a move to transform the LikeCoin towards a DAO and I will vote with a big "YES"!
One of the core features of a DAO is DAO members can influence how the DAO spend its assets through governance process, like raising proposals and voting. For example in proposal 28, the Likerland DAO had passed its first proposal to procure marketing services on Twitter.
If the DAO is going to spend some money then you will think that we need a "DAO wallet" to hold that public money, which is the Community Pool. The Community Pool is a wallet which can **only** be operated by passing proposals (called community pool spend proposals).
It might be easier to demonstrate this with an example - proposal 28. It is a community pool send proposal, asking for the community's approval to send 164,616 LIKE to the address - cosmos143r2naeehd4kx0h32xpu55zzkvnh4l9pzp3xx3 - which is hold by Irtysh Digital. The proposal was eventually passed and the $LIKE was sent automatically after the passage of the proposal. (I want to show the transaction tx but it seems community pool spend tx are not available on bigdipper).
So you may ask: Where does the likes in the Community Pool comes from? Why we have this "Migration Pool" and "Team Pool"? (And also the "Ecosystem Pool" from proposal 22) We will need to visit the whitepaper which talks about the ERC-20 token, which was before the migration to Cosmos.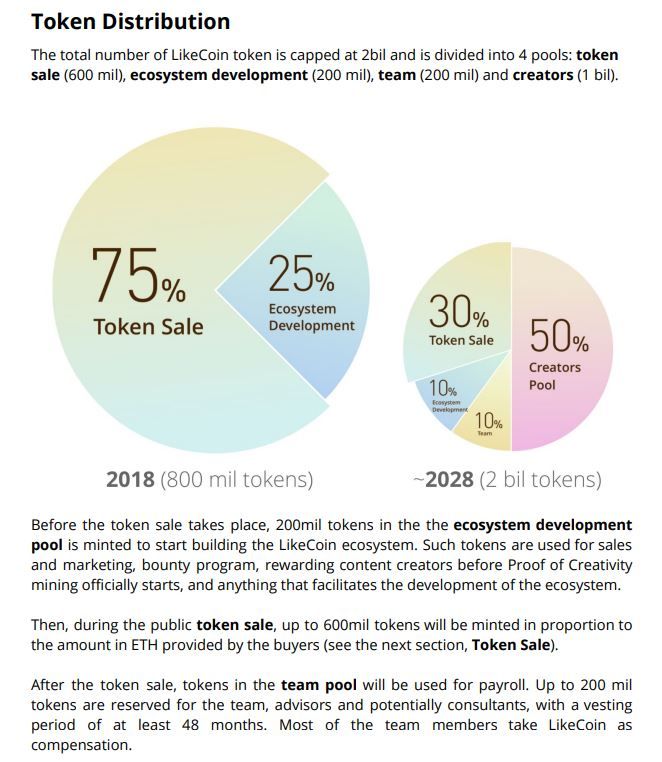 "Ecosystem pool" is...
for sales and marketing, bounty program, rewarding content creators before Proof of Creativity mining officially starts, and anything that facilitates the development of the ecosystem.
And for team pool:
Team pool will be used for payroll. Up to 200 mil tokens are reserved for the team, advisors and potentially consultants, with a vesting period of at least 48 months. Most of the team members take LikeCoin as compensation.
(Actually I am curious does the Likerland team pland to raise proposals in future for payments of their development work?)
As the chain moved to Cosmos, some tokens is needed for ERC-20 holders to migrate their tokens to Cosmos. That's what the migration pool is for.
This is the distribution of tokens in public pools as at Oct 2021.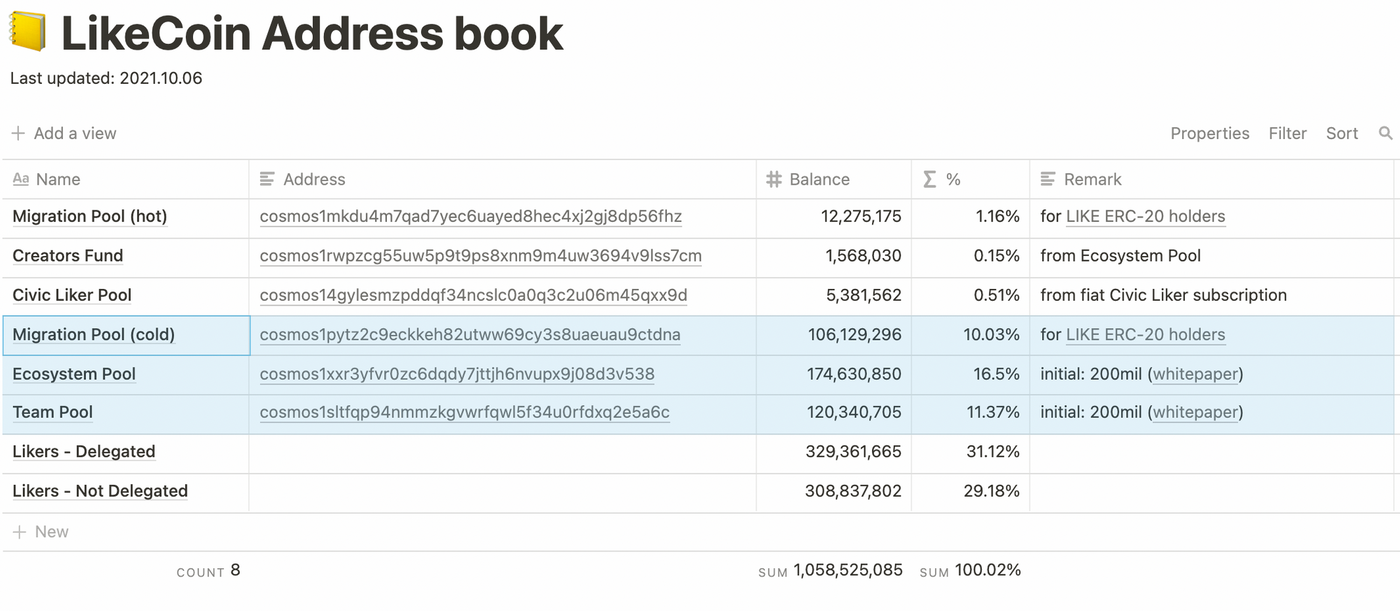 So after proposal 29 is passed, all public funds will be controlled by the Likerland DAO through the community pool by means of proposals and voting. In my opinion it is a milestone for the Likerland DAO to complete its transformation.
I hope now you would understand about this proposal, and hope you will cast your vote on stake.like.co!
Like my work?
Don't forget to support or like, so I know you are with me..