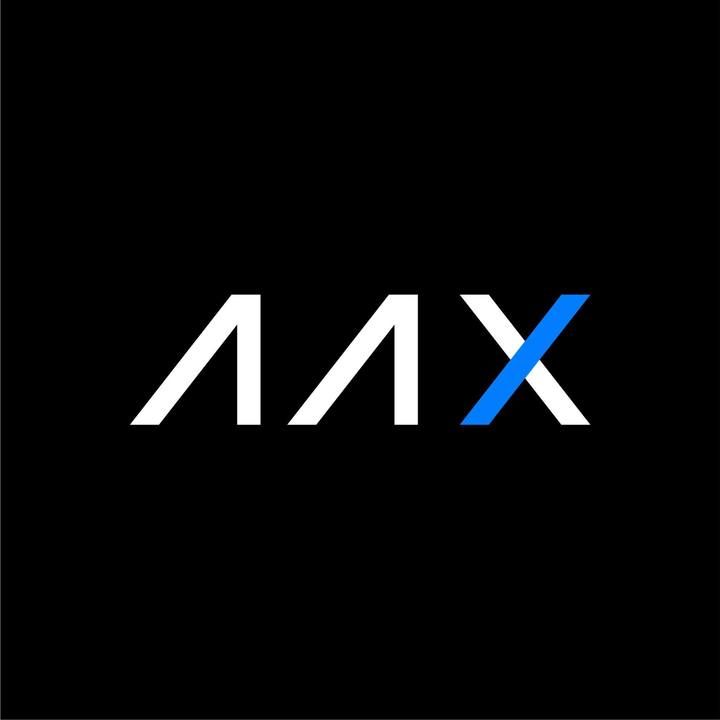 AAX 是下一代加密貨幣交易所,由倫敦證券交易所集團技術驅動。 買賣比特幣及加密貨幣 | 理財 60% 年利率https://www.aax.com/
AAX Trends Announces Opening of NFT Pop-Up Store in Hong Kong to Highlight The True Value of NFTs
NFT-themed trams have set sail in celebration of the opening
Hong Kong, 21 Apr 2022 – AAX, a global cryptocurrency exchange, is set to launch its first Hong Kong NFT pop-up store, which will debut at K11 Art Mall on 23 April, 2022. Organized by AAX Trends, a sub-division of AAX, the store celebrates the unique developments occurring within the crypto space, highlighting innovation and creativity through digital collectibles built on the blockchain platform. The pop-up store will showcase a selection of NFT pieces from the early days when it first emerged and those originating from local Hong Kong artists, AAX Exchange itself, and the global NFT community. Apes, pixels, and gods will be the central theme of the pop-up art space that will be open to visitors from 23 April – 9 May, 2022.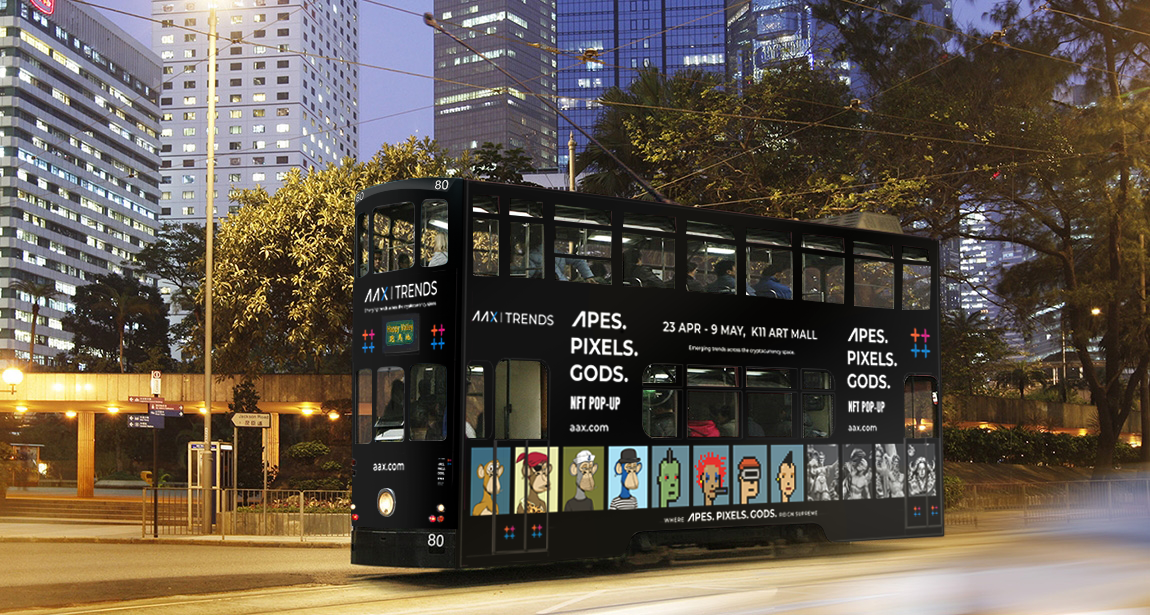 In celebration of the opening of the NFT art space, there will be three double-decker trams setting sail on Hong Kong Island from 22 April – 12 May 2022. The trams, which will showcase the key NFT collectibles exhibited at the pop-up store, are designed to echo the pop-up theme of "The Early Days of Crypto – Apes. Pixels. Gods", revisiting NFT apes in their earliest form, the pixelated art of CryptoPunks, and the crypto gods series originating from AAX.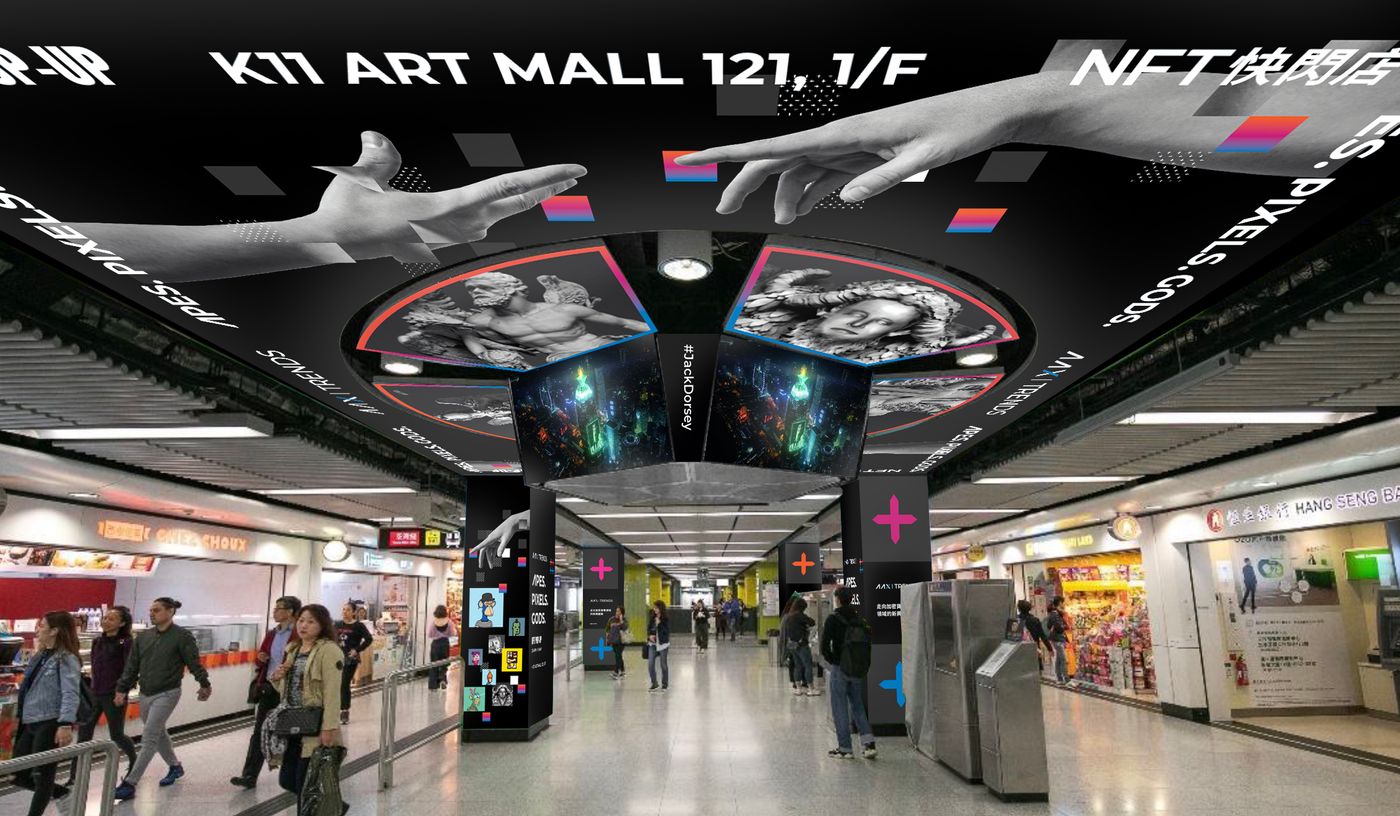 AAX Trends' pop-up store which highlights the intrinsic value of NFTs comes at a time when digital innovation has taken the world by storm. With the progress of the crypto industry these last few years, NFTs have grown to represent the versatility and value of the crypto industry.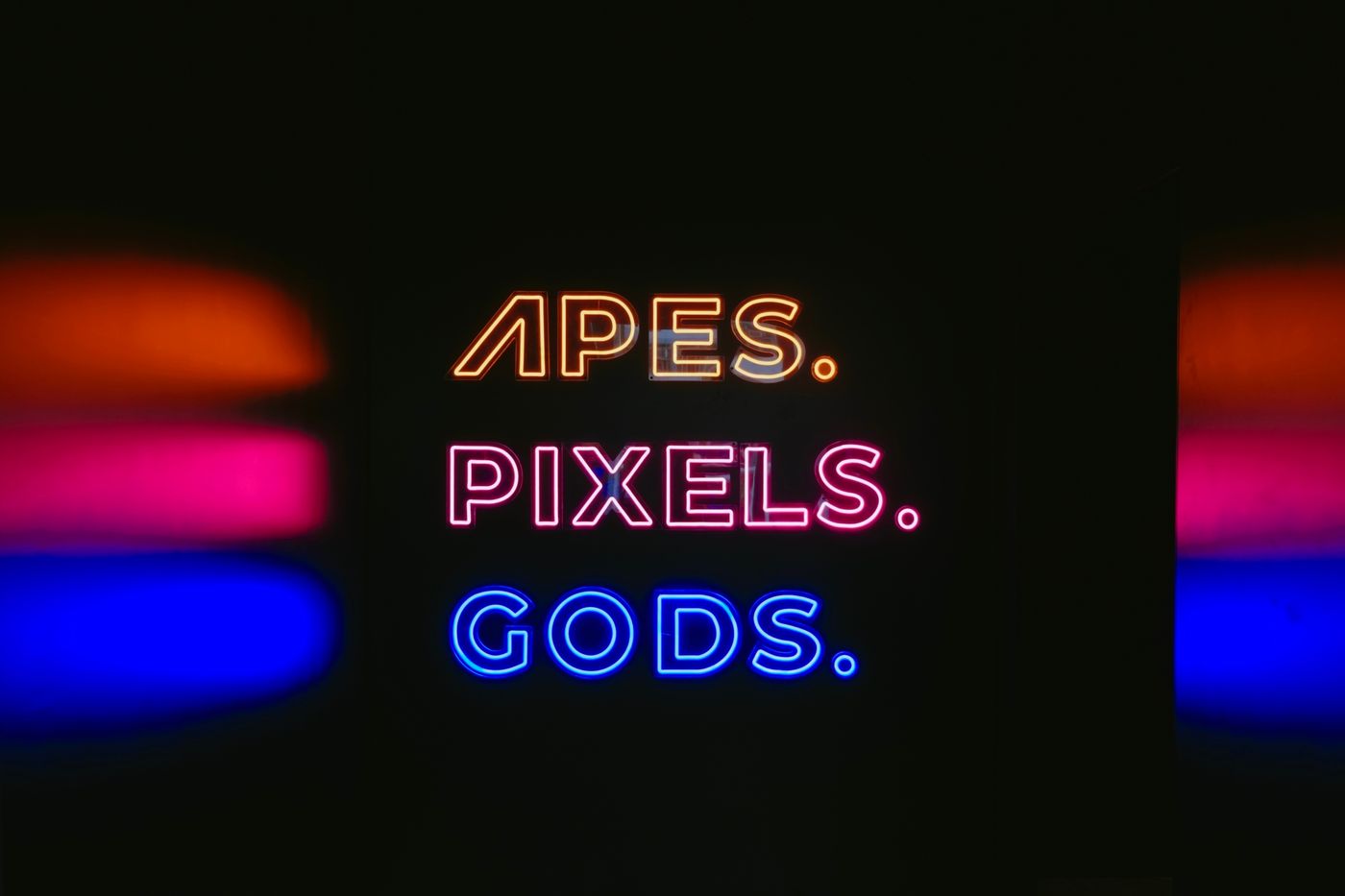 Representing far more than just a JPEG minted on the blockchain, NFTs are now the key to a future where ownership of a unique digital asset on the blockchain can lead to many new opportunities. Whether an NFT is used for bragging rights, to complete a collection, or used as an investment to gain more capital, the possibilities are endless. In stride with the growth experienced by the crypto industry, NFTs have become a store of wealth that could easily be accessed, traded, or held as a digital collectible that will appreciate over time.
Highlights of the pop-up store include: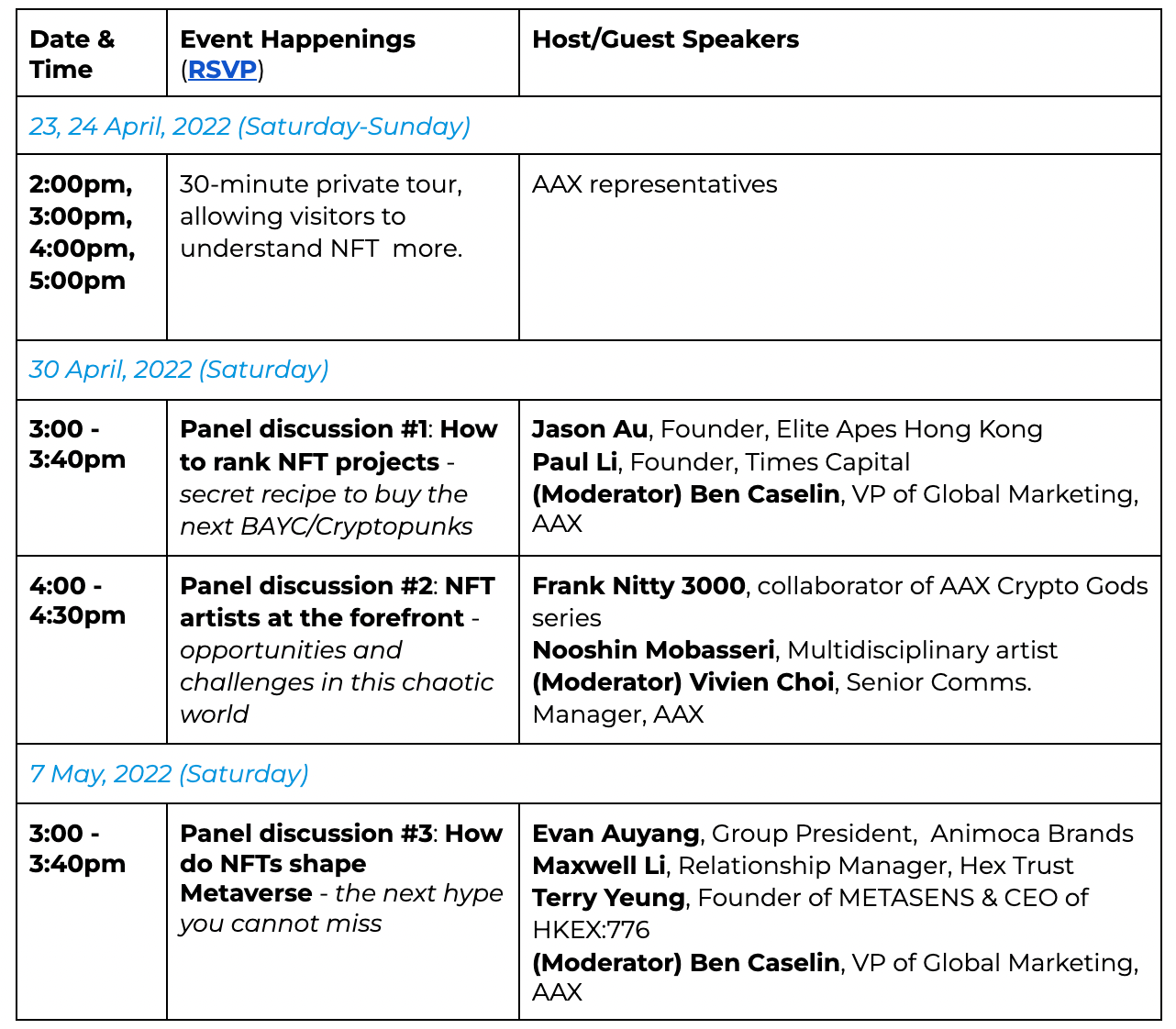 "Possibilities in the digital realm are endless, as evidenced by the development and innovation in digital assets, crypto, and NFT in recent years," said Ben Caselin, Head of Research and Strategy at AAX. "This AAX Trends pop-up explores the evolution of non-fungible digital assets and the potential and possibilities for NFT applications. By bringing together industry leaders, artists, and a curious crowd, and taking a deep dive, AAX Trends hopes to foster more understanding and uncover new perspectives on the NFT space."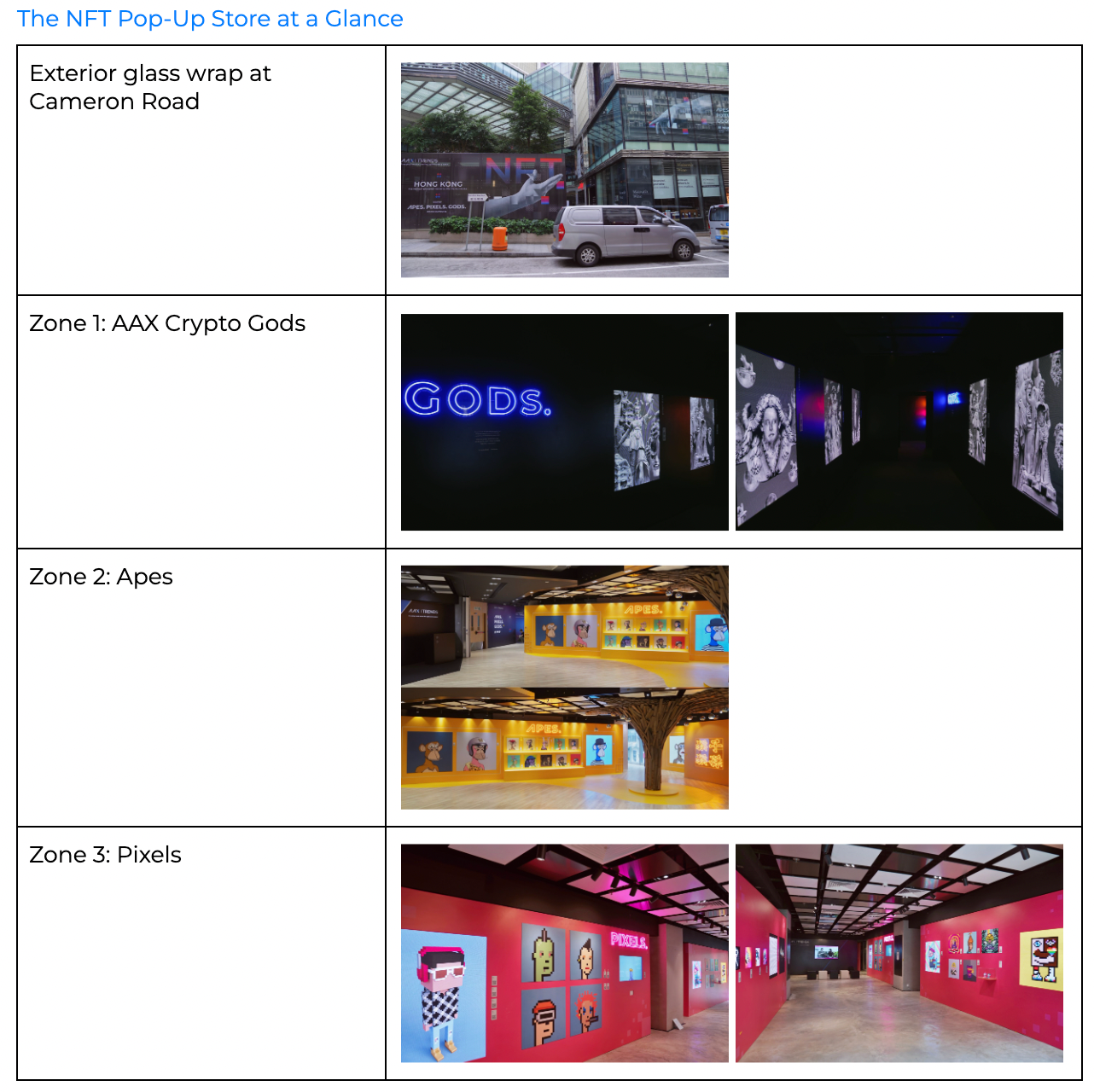 For high-resolution images, please visit here.
END
About AAX Trends
AAX Trends, a division of AAX, is at the forefront of cryptocurrency mainstream adoption. It focuses on the latest developments and emerging trends within the crypto space. Through curated content and various leadership programs, AAX Trends aims to inspire, educate, and connect with local communities and the global audience.
About AAX
AAX is a top-tier crypto exchange that caters to a global audience with the vision of bringing the benefits of crypto to everyone. Through an accessible range of products and by contributing to the conversation about crypto and culture, we aim to empower the estimated 96% of people worldwide who do not yet own Bitcoin and other digital assets to build better and more inclusive economies.
Favored by more than two million users in over 100 countries, AAX is the first exchange to use the Satoshi Standard (SATS) to drive the adoption of Bitcoin. We are also the first to be powered by LSEG Technology, offering high-yield savings packages, 100+ spot pairs, deeply liquid futures markets, regular discounts on major tokens and a range of on- and off-ramp products.
Like my work??
Don't forget to support or like, so I know you are with me..